I was in search of the perfect plantain recipe & since I couldn't find one, I made one up.
If you like plantains, you will love this healthy & delicious recipe made with organic brown sugar & coconut oil. I think it's perfect over Greek yogurt, as a side to an entrée or, straight up as dessert.
Hope you try & enjoy it as much as this kid!
Start with ripe plantains, cut them on a bias & cover in brown sugar.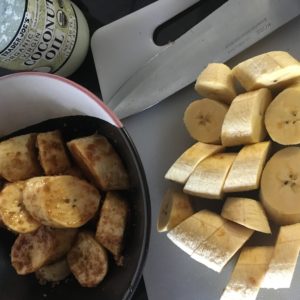 Sauté in coconut oil for approximately 5-10 minutes or until golden brown. Do not make the mistake I made & place them on a paper towel to cool off. They are tacky & will stick to the paper.
Instead, transfer them straight to the plate, wait a few minutes for the sugar to solidify & the plantains to cool off & dig in!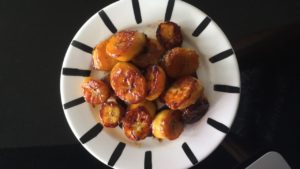 I used Wegmans' organic brown sugar & Trader Joe's organic coconut oil but any brand will do.
Bon Appétit!