Lisbon was awesome but we were ready to move on to our next destination…just two very important quick stops first.
Breakfast at the famous Cafe Nicola, another of Lisbon's literary and political meeting points when it opened in 1929.  It maintains part of its past in its art deco façade and a branch round the back called Nicola Gourmet sells 25 varieties of coffee beans by the bag…
A chocolate croissant and steamed milk with a few drops of espresso for the boy and Cafe Con Leche for us and we were ready…
Checked out of the awesome Sofitel (highly recommend for their amazing hospitality and location not to mention, Lanvin bath products and Yves Delorme bathrobes) and went to pick-up our car for the drive to Sintra…
This was probably the least planned of all our trips as we left some wiggle room for extra time in the towns we liked best but, we did plan on traveling north of Lisbon toward Porto with a night in Sintra and so Estoril was next on our list.
Just to give you a perspective, Estoril is a short drive from Lisbon heading west and a must stop especially, if you're visiting in the summer months when the beach scene is in full swing.

We were not lucky enough to experience it to the fullest as it was still off season but was great to see this town that, during World War II, acquired a glamorous reputation when Portugal's neutrality and mild weather attracted the rich and famous, German and English spies and European royals and aristocrats such as King Umberto II of Italy, Carol II of Romania, the Count of Paris, and Spain's Don Juan.
The town has since lost much of its status, but maintains a certain faded grandeur and is still a fashionable cosmopolitan playground with Europe's largest casino, tennis courts, some of Europe's finest golf courses, a race track that has held Formula One Grand Prix races and a pretty but somewhat rocky beach…
The picturesque beach of Tamariz has a number of bars and restaurants (most were still closed when we were there) and a castle overlooking it that is owned by the royal family of Monaco…
The casino, surrounded by gardens with tall palm trees, is known to give out the biggest weekly prizes in Europe but the coolest part? It was the inspiration for Ian Fleming's James Bond and Casino Royale!
Bond…Jacob Bond…


The Hotel Palacio facing it appeared in one of James Bond's first films ("On Her Majesty's Secret Service") and served as a backdrop for Richard Wilson's novel, "A Small Death in Lisbon."


A beachfront promenade links Estoril to beautiful Cascais which was our next stop but not before Jacob had a chance to frolic in the sand…with rain boots on but beach is beach!

Next stop was the picturesque resort town of Cascais easily accessible by train along the shore from Lisbon's Cais do Sodré station but I recommend renting a car so you have the flexibility to stop, stay or go at your leisure plus, you have a place to keep your luggage and the driving in Portugal is fairly easy.  
Cascais, a formerly quaint fishing village that, like Estoril, became a popular resort with European nobility and kings in the early 20th century is a colorful cosmopolitan town with elegant pedestrian streets, luxuriant villas, fashionable shops, restaurants and bars.  Our first order of business was lunch and how do you make this kid happy?  Go for all you-can-eat sushi that's how! 

After lunch, we strolled the pretty pedestrian streets paved with blocks recreating wave patterns…

and dodged the rain popping in and out of shops and cafes like the famous Santini's Gelati that some consider to be the best ice cream in the world.  Internet fans go so far to suggest it's "a gift from the gods" and after a cup of dark chocolate and caramel, we couldn't agree more!
It all started with a little ice cream shop in Praia do Tamariz in 1949 when Italian immigrant Attilio Santini produced handmade ice creams with the freshest and highest-quality ingredients to serve to beach-going Portuguese during the Summer season…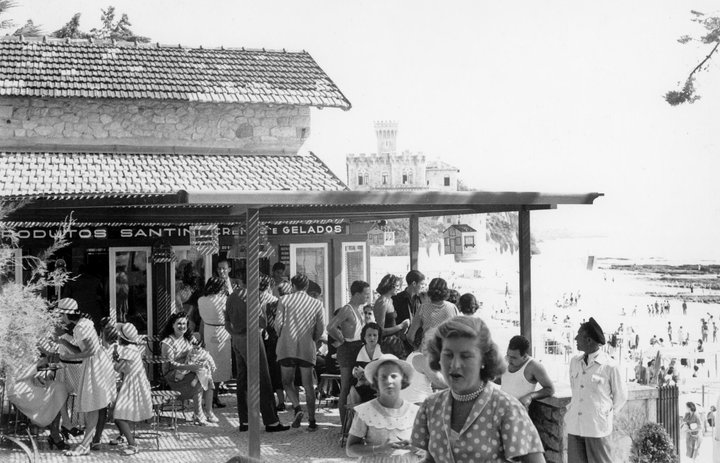 Today, they have shops in not only Cascais and Estoril, but also in the Chiado section of Lisbon so if you get the chance, this is a must and be sure to get the strawberry flavor which seems to be most popular with the locals!
The rain that came and went definitely put a damper on our visit to this beautiful little fishing village but what are you gonna do…shop? eat? Yes please!
With so many great little shops and cafes, there was plenty to keep us occupied until we were ready for our next stop but this is one town I would definitely recommend especially, in the Summer when the crowds descend upon the beaches and the yachts grace the shores!
Next stop on the list, an outstanding sight of Boca do Inferno or, "Mouth of Hell".  High waves crash into gigantic caves carved out of the rock by the sea, causing an awe-inspiring noise that may explain the name given to the site and why Aleister Crowley chose it to fake his own death in 1930…

Wow, it was starting to be one of those days when your senses are on total overdrive and all the great things you've seen, heard, learned and tried are starting to blur together and…we weren't even done yet.
Our next and final stop for the day and, where we planned to spend the night, was Sintra.  While I read amazing things about it, I was not fully prepared for what we came upon as we mazed up the hilly streets of Sintra and through the gates of the 18th-century Seteais Palace.

It was getting dark and a fine mist was setting over the town which made the scene that much more surreal and mystical…
The Seteais Palace was built between 1783 and 1787 for the Dutch consul Daniel Gildemeester who chose to build his house on the border of an elevation, from which the vast landscape around the Sintra hills could be admired.
In 1797, his widow sold the palace to Diogo José Vito de Menezes Noronha Coutinho, 5th Marquis of Marialva.  The palace was enlarged between 1801 and 1802 by neoclassical architect José da Costa e Silva, author of the São Carlos Theatre in Lisbon.  The old and the new wings were connected in 1802 by a neoclassical arch built in honor of Prince regent John VI and Princess Carlota Joaquina.  The monumental arch, decorated with the bronze effigies of the royal pair and a commemorative Latin inscription, is attributed to architect Francisco Leal Garcia…
1890-1910, the palace belonged to Joao Fernando Salazar e Bragança and after changing hands several times, was acquired by the Portuguese government in 1946.  The Seteais Palace has been used as a luxury hotel since 1954, its original characteristics have been preserved with rooms containing crystal chandeliers, murals and antique furnishings…
From the gardens (the site of the annual "Noites de Bailado" festival in August with dance and ballet performances by top international names) is a magnificent view of the surrounding countryside and Pena Palace all of which I couldn't wait to explore the following day.  So we checked in with the most hospitable staff, explored our home for the night and got recommendations for dinner which took us downhill into town to Tulhas Restaurant…
The family owned Portuguese restaurant served up delicious fresh food and local wine which we thoroughly enjoyed all while recapping our loooong and exciting day and, getting ready for the next one…

Put a fork in us, we were done so we walked back uphill to our palace and called it a night!