Hi There & Welcome!
I'm so glad that you're here, now why don't we get to know each other a little better?
A bit about me…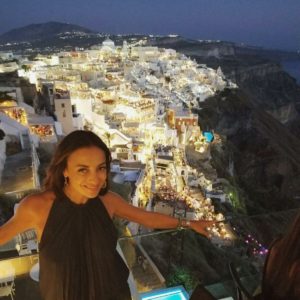 I started AlyaBuzz on a beautiful midsummer's day in 2009 while taking a break from helping my husband DIY our newly purchased beach house. There we were 2 city people creating a weekend retreat for our then 2 year old son who had become the center of our world. I was working full time & hating what I was doing but…family, fashion, food, travel & yes DIYing made me extremely happy. Writing & sharing my experiences with others made me even happier so I decided to give it a go. A bit of research & voilà, AlyaBuzz was born!  It didn't solve my job situation but it gave me a creative outlet to connect & share my passions with others like you. Specifically, raising a child in the city & exposing him to the world through travel.
I didn't always live in the city or in the US for that matter.  Born in Kiev, Ukraine I immigrated to America at the age of 9, grew up in the burbs of Baltimore, MD & as soon as I could, I moved to NYC where I fell in love with city living & everything that came with it. I first worked in fashion & then in advertising where I found myself at the center of NY culture. I found the lifestyle exciting & exhilarating but shortly into it, met a great guy, fell in love, got married & moved to his hometown of Philadelphia where I live today. Five years of merry matrimony, awesome adventures & mind-numbing infertility treatments, we adopted. Needless to say, my life took many unplanned twists & turns but from the second I laid my eyes on my son, Jacob stole my heart & became my everything.
He has inspired me to be & do better. I try every day to do the same for him & what better way than to give him the world through travel? Ever since he was 9 months old when he had his first bite of sushi in Miami he has been by our side traveling the world. This has been my gift to him & I don't plan to stop any time soon. From London & Paris to Portugal & Cost Rica, we do it all. So, where will our family adventures take us next? I don't know but I hope that you stick around to find out because I'll be sure to share it all here!
If you're a regular AlyaBuzz reader, thanks & I hope that you enjoy reading my blog as much as I love writing it.
New? I can't wait to get to know you better & Welcome you to get in touch via email at alya@alyabuzz.com or social media; Facebook, Twitter or Instagram.
Thanks & Have a BuzzWorthy Day!
Alya